Gist
Wolves Now In Nollywood? How Actress Bit Off Chunk Of Colleague's Thigh On Set Over Minor Argument (Viewer Discretion)
This story is shocking and almost unbelievable at the same time. How any adult will result to this level of physical assault is just beyond my comprehension, especially over a small argument.
This happened on Friday 12th, around 11:30pm,  on the set of Behind a Smile in Iyana Ipaja, Lagos. According to the victim Princess Chineke, a large chunk of her flesh around the thigh was bitten off by her Colleague Chrystabel Goddy following an altercation between the two actresses.
Princess Chineke narrates her ordeal as follows:
"I came in late to camp, the hotel rooms were full so I was asked to share room with her. Few nights she stayed in, she was always making mid night calls. So I asked her to go out of the room or make the calls in the toilet with the doors locked.

The other night she made calls at 1am putting the caller on speaker. Hearing a male voice from sleep, I woke up thinking a guy was in the room only to discover it was was her putting her caller on speaker. I complained to the management they said they will get another room for me but there was no room after yesterday's shoot. .

Told her she is disturbing, she insulted me so we exchanged words. I ended up sleeping on set the next day. When I got back to the hotel, I had my bath, laid down on the bed she said she wanted my space. She called the pm (project manager) saying they should throw me out. I'm not supposed to be in the project and the hotel.

I said the way she was brought in, I came in as well. She insulted my family, I told her she has no right to decide who is in a job or not its not her fathers job! She bounced on my lap with her teeth. She hit me in their front before I could hit back, the men came in separated us. .

She said check your leg see what I did to you? I didn't feel the pain untill I went to pee I saw she ripped my washed pants in the bathroom. I pulled the pyjamas and saw a chunk of my flesh out. Showed it to every one who ran to the room. The management took me to another hotel, then hospital to make sure I was properly treated.

Her name is Chrystabel Goddy. I am still in the hospital with stitches and my wound still bleeding."
Photos below: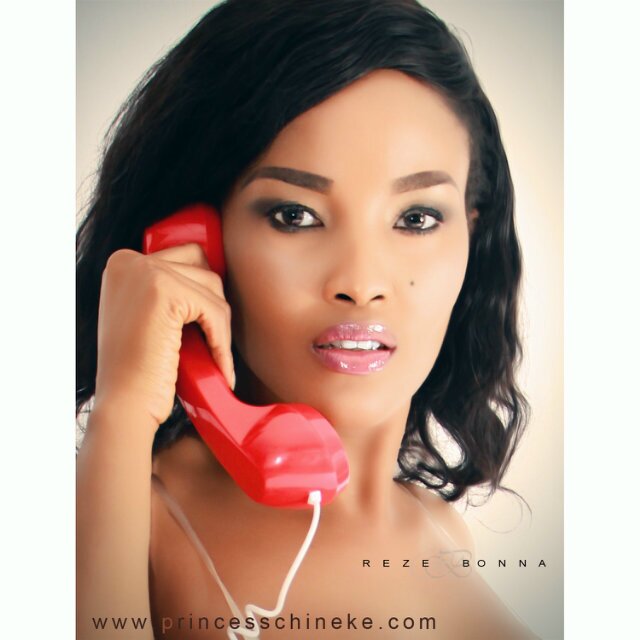 I decided to do a small research on both actresses and saw that Princess Chineke has been around for a couple of years now, and apart from being an actress, runs a modelling agency. This Chrystabel Goddy on the other hand very little is known about her, with hardly any results from Google. I'm told she started her acting career last year so that explains why. Perhaps this is her own claim to fame: this horrid publicity stunt.
That being said, we have not heard Chrystabel Goddy's side, but if indeed she bit her colleague this way, then this is just wrong on all levels. In other countries she will be sued so bad, she wouldn't even know what hit her.  She will even probably lose her job, and be black listed by a lot of producers for this gross act of barbaric indiscipline. But this is Naija, people get away with almost anything.
Gosh, did you see the wound? At first I though it was a dog bite or something else until I was told the story. Crazy stuff!
Do leave your comments.